BRANCH
Paustovsky Museum
Konstantin Paustovsky was born in Moscow, he spent his childhood and youth in Kyev, was living in Odessa and working in the newspaper «Moryak».
The Public Museum was started by Literature Association «The world of Paustovsky» in 1998, on the street Chernomorskaya, where Paustovsky was living in 1919-1922.
In 1999 the memorial museum of Konstantin Paustovsky became a branch of Odessa Literature Museum.
The Museum is located in the historical part of the city, near landmarks and historical architecture, near Black Sea slopes that are well known in Odessa like Lanzheron.
The Exposition of the museum is located in two halls. There are personal belongings, manuscripts, letters, photos, everyday things, furniture of the beginning of XX century in the exposition. In the foundations of the museums there are audio and video, the library of books of the writer. Every museum visitor has the opportunity to touch the time virtually that was shown in the legendary tale «Time of Great Expectations»: it's possible to listen the waves crash, to hear the sounds of Morse code and the bell.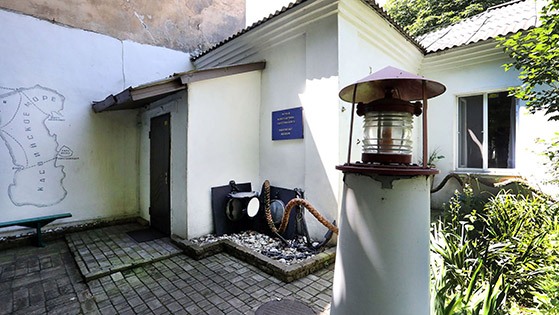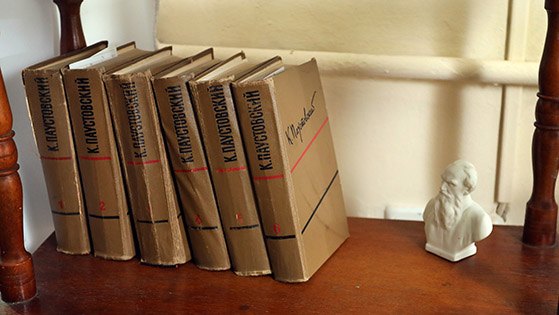 Some parts of exhibition are dedicated to literary characters from writer's books – to Alexander Grin and Petr Shmidt.
At the museum courtyard the expositions «Paustovsky and the Sea», «Paustovsky and the world of plants» are located. Near museum there is a square named after Paustovsky, where nature monument trees are grown. There are also flowerbeds and the territory is decorated with small architectural forms. There are also some interesting items that were found during archaeological digs of disappeared houses on Chernomorskaya street.
At the museum the jury of annual literary competition named after Paustovsky works. It attracts the attention of poets and writers from Odessa and Ukraine. The thematic conferences, tours and lectures are held in the museum. The museum of Paustovsky is a part of itinerary «Literary Odessa». And thematic tour «The path of Paustovsky» starts from the museum. Walking this path you can make acquaintance with place of work and creativity of Paustovsky.
In the evening on Chernomorskaya street there is a wonderful seaview with ships standing in a raid. This street is very loved by Odessa painters.
Work time
Opening hours: 10.00-17.00
Monday off
Newsletter
Subscribe to news